girl who is 10 years old and finds out one day she has the power to control 10 Aliens in a watch called the Omnitrix .99. the first episode is called .99.Clue. She has 2 friends who follow they are Lindsey Young and Bill Toxen who later find new powers! There are alot of enemys like Vern,Me Shirley and OX.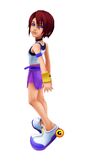 Ad blocker interference detected!
Wikia is a free-to-use site that makes money from advertising. We have a modified experience for viewers using ad blockers

Wikia is not accessible if you've made further modifications. Remove the custom ad blocker rule(s) and the page will load as expected.